Unfortunately, the ingredients for Tiramisu in the US are not easy to find and quite expensive. But I have little tricks and the Tiramisu is still very tasty.
---
Ad/Werbung
---
Print the recipe
A recipe from me for Tiramisu that made it into the Thanksgiving family tradition.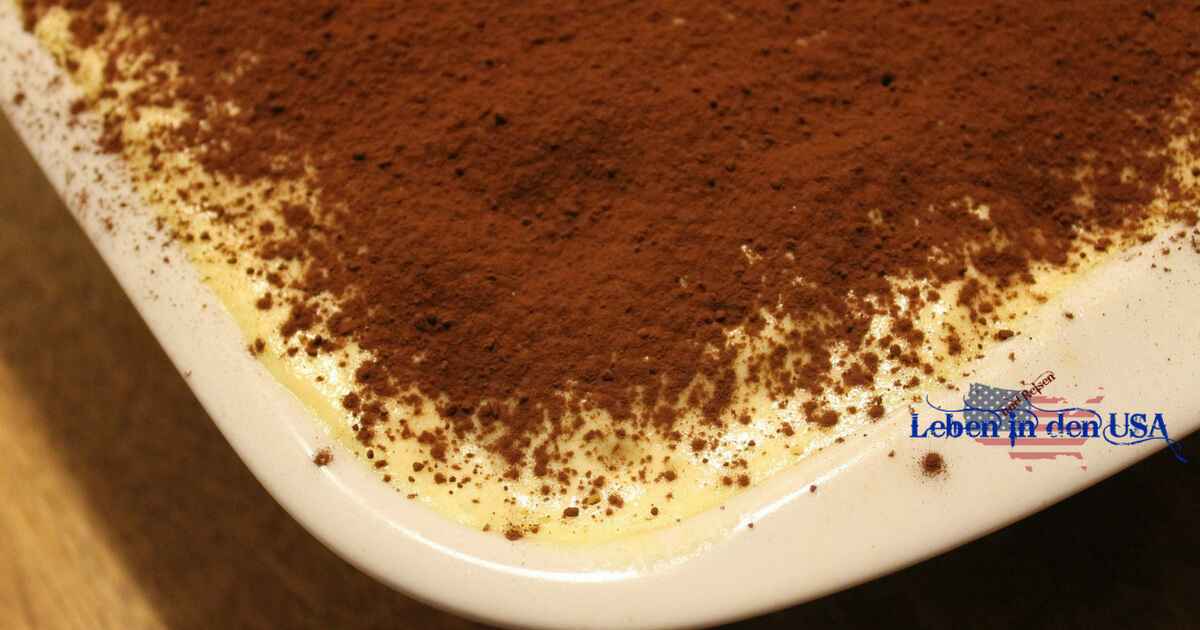 Tiramisu günstig aber sehr Lecker
Prepairing Time
10
minutes
ingredients
6

Eier/Eggs

100

g

Zucker/Shugar

1

paket

Margherite Cookies or Ladyfingers

250

g

Mascarpone

250

g

Frischkäse/Fresh Cheese

1

Cup

gekochter Kaffee/coffee cooked

1

shot

Amaretto (I do not use Amaretto)

2

Tbs

Kakao
manuals
Eiweiß in eine seperate Schüßel

Eggwhite in a seperate bowl

Eigelb schlagen und den Zucker einrieseln lassen, bis es eine weiße Creme wird

Beat the Egg Yolk and and let the sugar slowly trickle in,until it becomes a white cream

Füge Mascarpone und Frischkäse hinzu

put in mascarpone and cream cheese

Füge geschlagenes Eiweiß hinzu

Fold in beaten egg whites

Fülle Auflaufform mit Cookies (Ladyfinger mit Zucker bestreuen) und mit Kaffee und Amaretto tränken

Spread casserole dish with cookies, (when not ladyfingers sprinkle cookies with sugar) sprinkle with coffee and amaretto

Mache mehrere Lagen und streue am Ende Kakao über das Tiramisu, am besten durch ein Sieb

make several layers and at the end of the tiramisum cocoa sprinkle, preferably through a sieve

Über Nacht im Kühlschrank lassen

Leave in the fridge overnight
Note
Cheat tricks
Ladyfingers:
Wenn du keine Ladyfingers finden kannst, die Stella Dora Margherite Cookies gehen auch, ich streue einfach etwas Zucker darüber bevor ich den Kaffee hinzufüge
If I can not find ladyfingers, I take cookies from Stella Dora Margherite and sprinkle some sugar after pouring coffee.
Mascarpone:
Eine kleiner Becher Mascarpone kostet fast $5, wenn du Glücklich genug bist überhaupt einen zu finden. Um die Kosten ein bisschen zu reduzieren, nehme ich halb Mascarpone, halb Frischkäse. Du hast immer noch den Mascarponegeschmack und sparst $5. Manche nehmen Pudding oder geschlagene Sahne um den Mascarpone zu ersetzen.
A small cup of mascarpone costs almost $5, if you're lucky enough to even find mascarpone. To reduce the costs a bit, I have used a little trick. I take half mascarpone half cream cheese. You still have the mascarpone taste and save $5. Some use pudding or cream to replace the mascarpone.