Tiramisu is a very good dessert and easy to make. Unfortunately, the ingredients for Tiramisu in the US are not easy to find and quite expensive. But I have little tricks and the Tiramisu is still very tasty.
Tiramisu recipe
A recipe from me for Tiramisu that made it into the Thanksgiving family tradition.
Tiramisu recipe cheap but awsome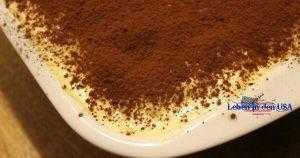 Tiramisu Recipe cheap and easy
Type: Dessert
Cuisine: Italian
Keywords: easy
Recipe Yield: 6 portions
Preparation Time: 10M
Cooking Time: 1H
Total Time: 1H10M
Recipe Ingredients:
6 Eggs
100 g Shugar
1 paket Margherite Cookies or Ladyfingers
250 g Mascarpone
250 g Fresh Cheese
1 Cup coffee cooked
1 shot Amaretto (I do not use Amaretto)
2 Tbs Kakao
Recipe Instructions: 1. cook coffee 2. Seperate Eggs 3. Eggwhite in a seperate bowl 4. Beat the Egg Yolk and and let the sugar slowly trickle in,until it becomes a white cream 5. put in mascarpone and cream cheese 6. Fold in beaten egg whites 7. Spread casserole dish with cookies, (when not ladyfingers sprinkle cookies with sugar) sprinkle with coffee and amaretto 8. Make several layers and at the end of the tiramisum cocoa sprinkle, preferably through a sieve 9. Leave in the fridge overnight
Cheat tricks
Ladyfingers:
If I can not find ladyfingers, I take cookies from Stella Dora Margherite and sprinkle some sugar after pouring coffee.
Mascarpone:
A small cup of mascarpone costs almost $5, if you're lucky enough to even find mascarpone. To reduce the costs a bit, I have used a little trick. I take half mascarpone half cream cheese. You still have the mascarpone taste and save $5. Some use pudding or cream to replace the mascarpone.